The Winter School of Discontent welcomes you to its open house this coming Saturday evening 23 January 2016. Join us from 19:00 onwards at West Den Haag to explore and expand what we have derived and devised from the minds and materials put together since we gathered. Let us present our journey from Nothing—through Agitation, Abandonment, Exposure, and Encounter—towards this moment of Contingency with you.
Triggering consciousness for creative politics and collective aesthetics, we are:
KARIN ARENDSEN, ANDRIUS ARUTIUNIAN, RONALD BAL, LARYSA BAUGE, ÁRON BIRTALAN, NELE BRÖKELMANN,
LUCA CARBONI, JOOST DEKKER, BOUDEWIJN VAN EERD,
HSIANG-YUN HUANG, JULIACKS, PRABHU KANDACHAR,
REMCO OSÓRIO LOBATO, RUBA NAWAZ, TUURE-EERIK NIEMI, LEEHEE ROTHSCHILD, HESTER SCHOUTE, JOSINE SIBUM SIDERIUS, VERENA VAN DEN BERG, NATHANJA VAN DEN HEUVEL, ANNELIEN VAN KEMPEN, & SAN YOON
with:
Orly Almi, Frank Chouraqui, Michael Driebeek van den Ven, Galit Eilat, Cissie Fu, Chris Goto-Jones, Riti Hermán Mostert, Eric Kluitenberg, Marianna Maruyama, & Eloise Sweetman.
Beyond presentations of projects in the making, our open house includes a lecture by Chris Goto-Jones entitled "Playing Revolution: Performance, Contemplation, and (Self-)Transformation" at 19:30, followed by interactions between the winter school and the visitors.
Drinks and snacks will be served, so please indicate whether we should count in your stomach as well as your open mind. We look forward to welcoming you to our burgeoning community!
More info: The Winter School of Discontent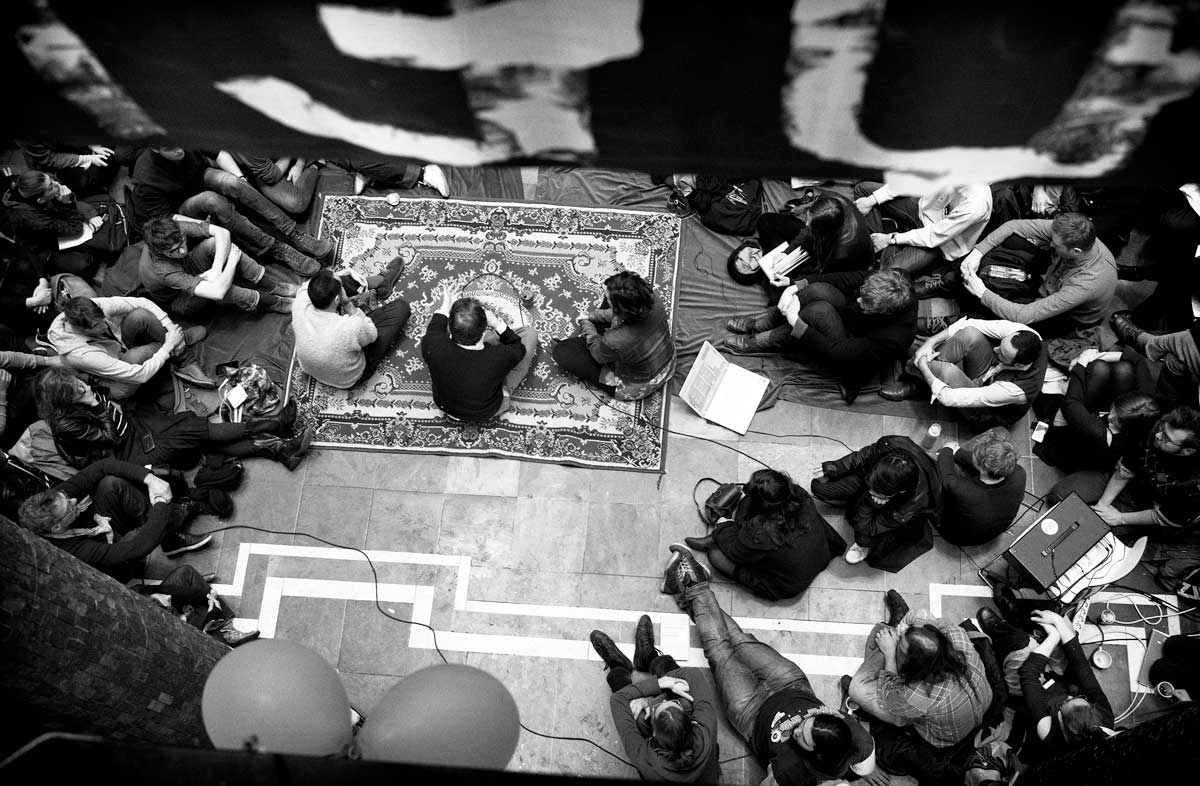 Maagdenhuis Occupation, 2015 (photo: Guido Van Nispen)